Dealers using the MPOP™ experience higher quality traffic and improve their marketing results while reducing total ad costs. The responsive landing pages deliver incredible performance on any website platform and are easy to manage.
Explore the unique ways Dealer Teamwork dealers are merchandising and optimizing transactional data to create their biggest competitive advantage.
Lawless CDRJ uses the MPOP™ to manage their new car, used and service specials to drive higher quality traffic while decreasing their reliance on expensive third party sites. Conversions and leads from their landing pages are at an all-time high! Visit site.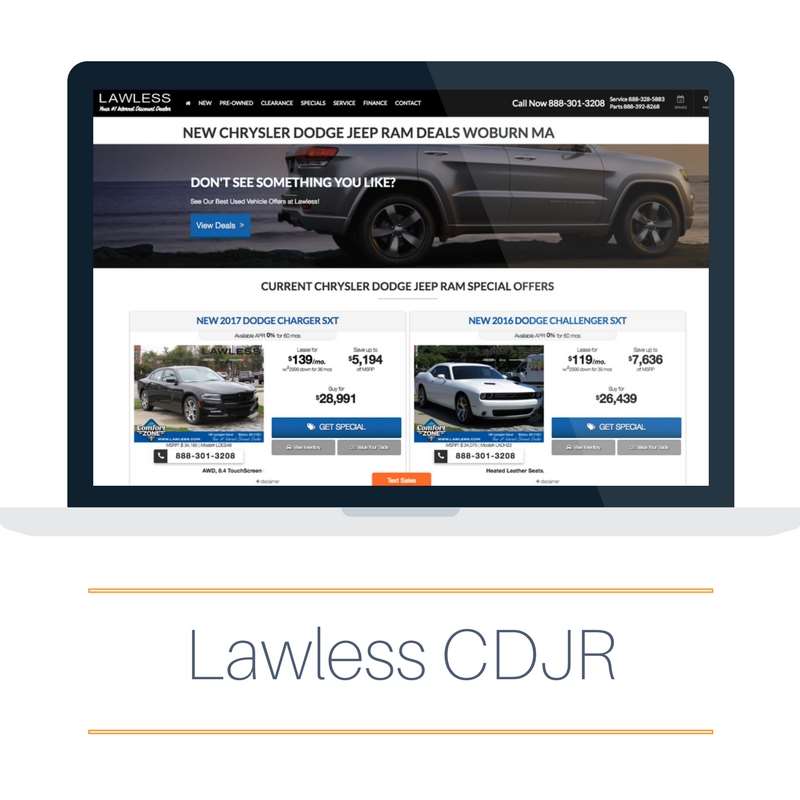 Mel Hambleton Ford has seen incredible improvements due to the relevancy created by the model-specific and service offer landing pages. Marketing costs have been reduced while sales increased. The MPOP™ recently contributed to a record 37 units, along with record profits, on a recent Saturday. Their use of video as part of the merchandising process contributes to their ongoing marketing success. Visit site.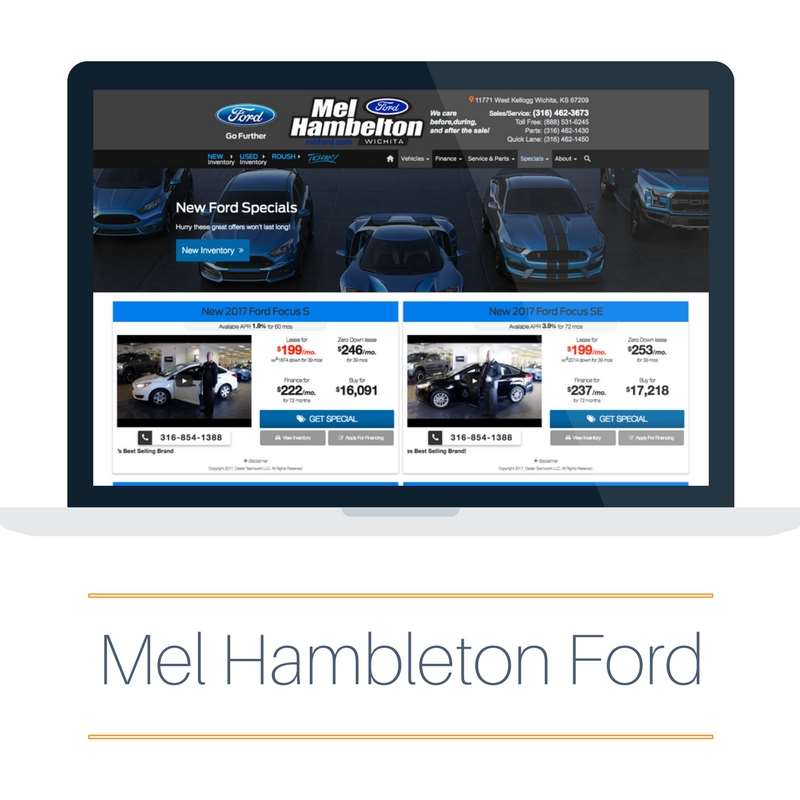 Driver's Village has a unique auto mall environment in upstate NY and relies heavily on the MPOP™ to manage more than 125 vehicle offers across over a dozen brands. Vehicles showcasing multiple lease offers help them drive consistent traffic while continuously improving their marketing processes. Visit site.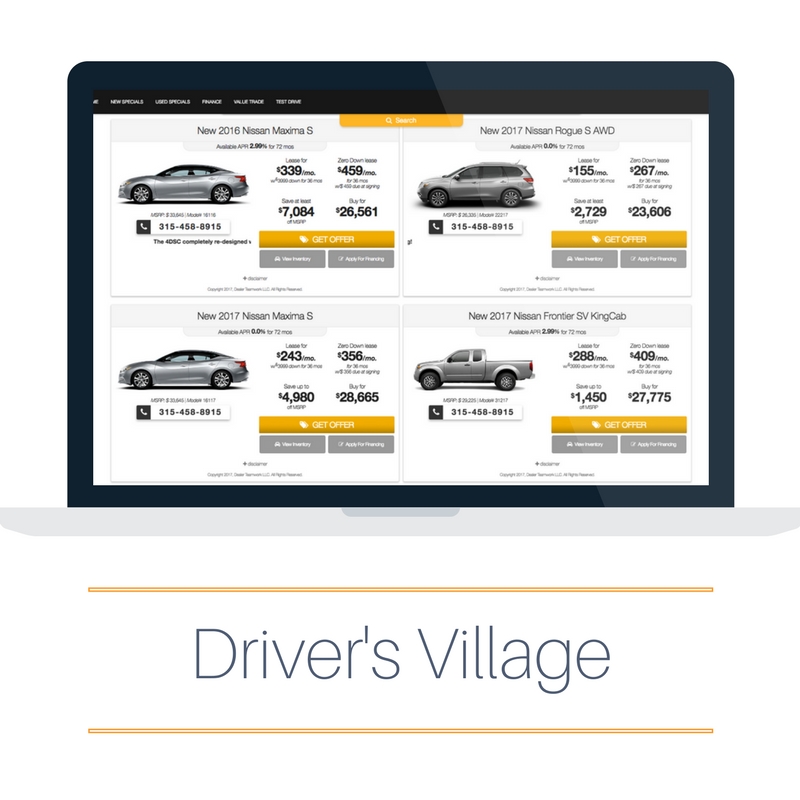 Bob Smith BMW now provides BMW shoppers even more choices. The MPOP™ lets them feature their latest new vehicle offers side-by-side with their used offers - something their old marketing process didn't allow to happen. The end result is higher engagement rates and a marketing budget which delivers higher ROI due to the lower ad costs. Visit site.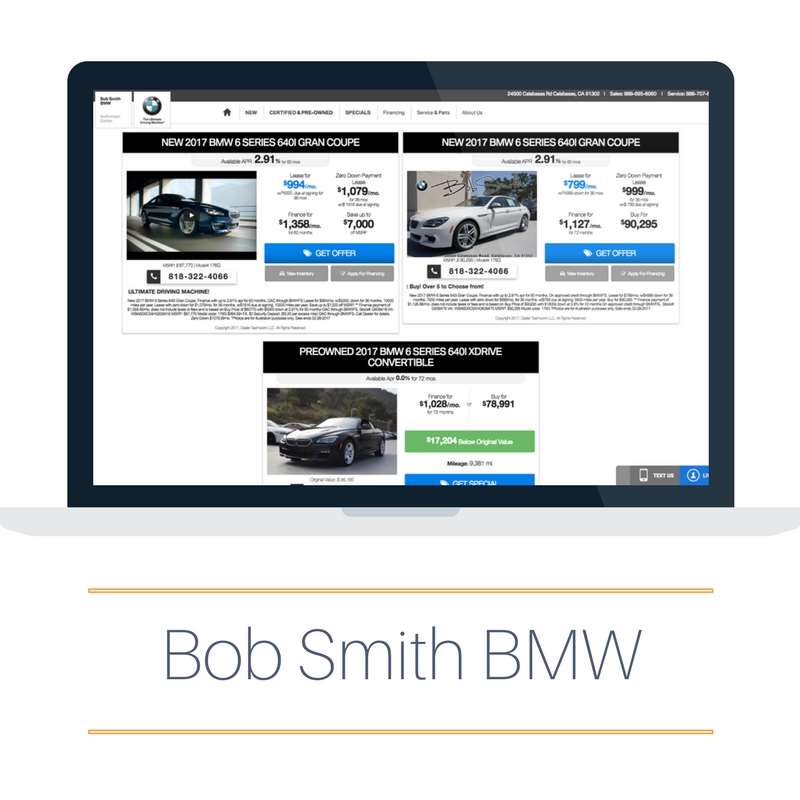 Ricart Auto, an auto group with over 4000 vehicles on the ground, and the #1 used car dealer in the country, recently turned on the MPOP™ to help manage the task of merchandising and optimizing all of their vehicle specials. Their online shopping experience is being transformed to show more offers on vehicles while making it easier to browse the massive inventory. Visit site.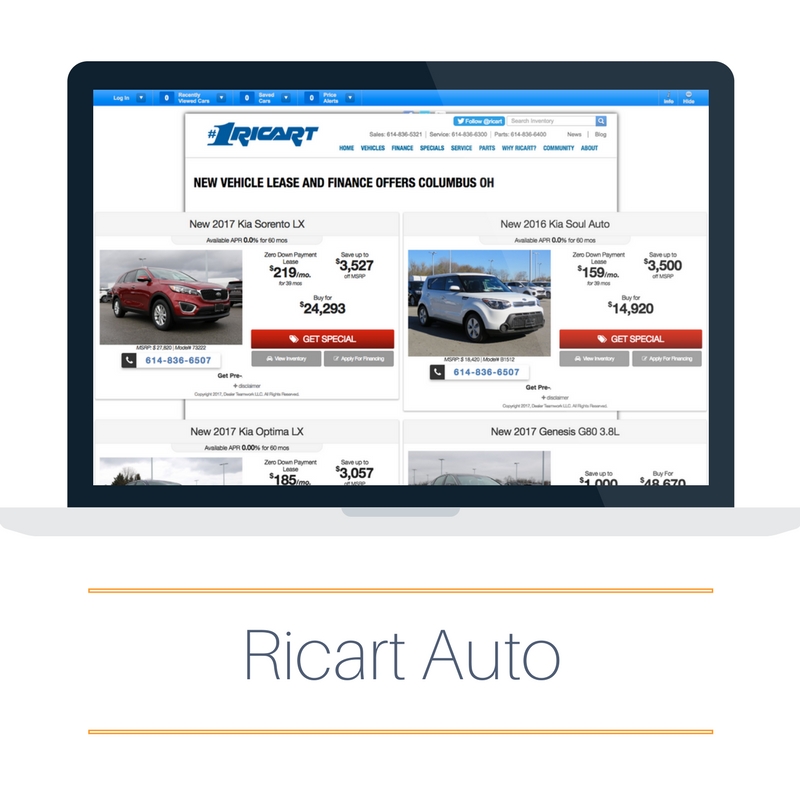 Apple Valley Ford is one of the original dealers to use the MPOP™ and they have never looked back. They feature every model, multiple trim levels and consistently update their offers at a pace that keeps them in front of their competition every month. Targeted email marketing and paid search campaigns continue to improve the quality of traffic and conversions, as well as the cost-effectiveness of their efforts. Visit site.
Read the entire Apple Valley Success Story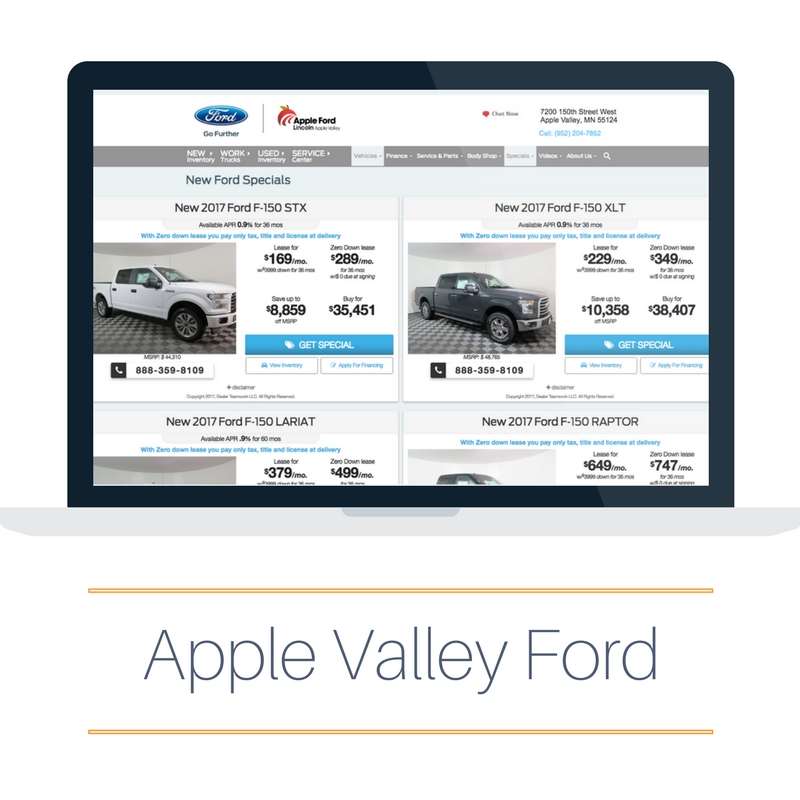 Morrie's 394 Hyundai keeps their new car offers updated throughout the month using multiple lease offers to power their dealership's competitive advantage. Their entire sales culture has been transformed as they're always prepared to display accurate transactional data to their shoppers across various marketing channels. Visit site.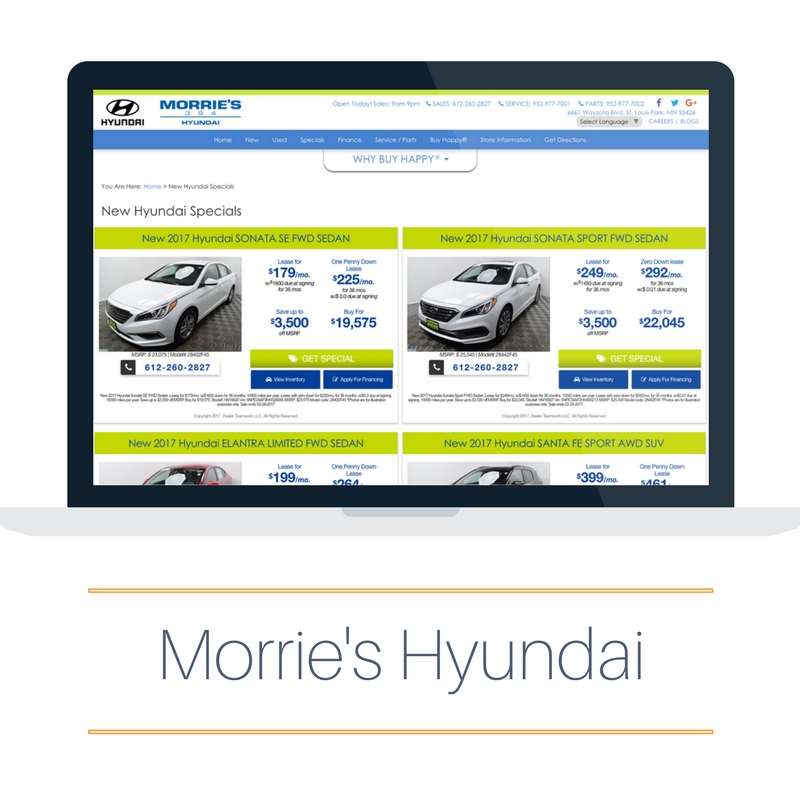 Oak Lawn Toyota relies on the MPOP™ to quickly deploy lease deals, finance payments, and used car offers faster than ever. Their segmented email campaigns help improve CRM performance every month while their paid search efforts have significantly outperformed every other competitive campaign. Visit site.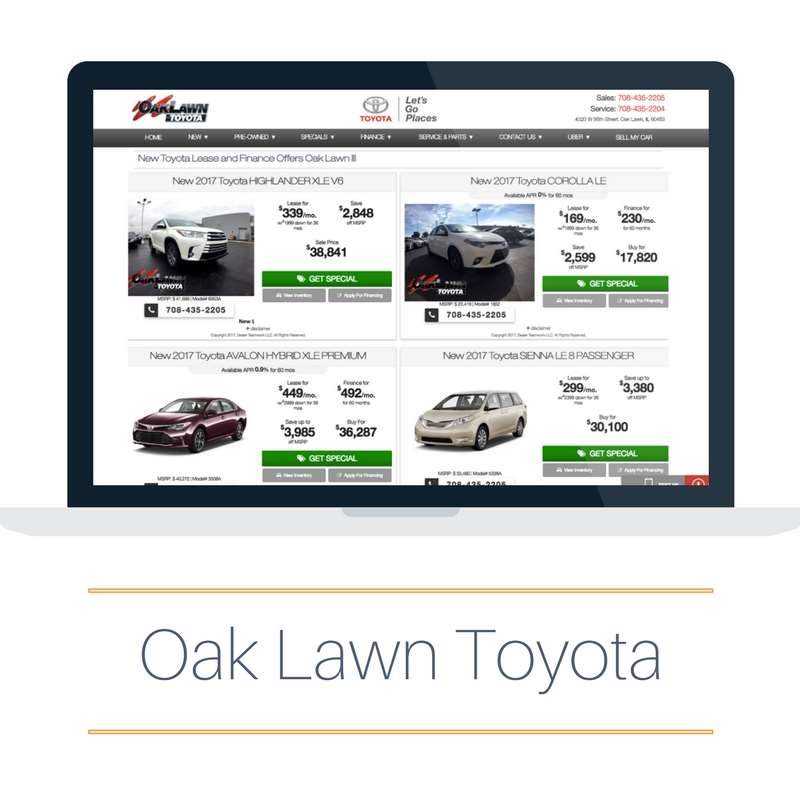 Bertera Nissan is one the first dealers to rely on the MPOP™ to help create a steady flow of finance offers for new and used vehicles. The lease and finance pages are among the most active pages on their website and deliver the highest engagement and conversions. The MPOP™ has become one of the dealership's most utilized and valuable marketing resources. Visit site.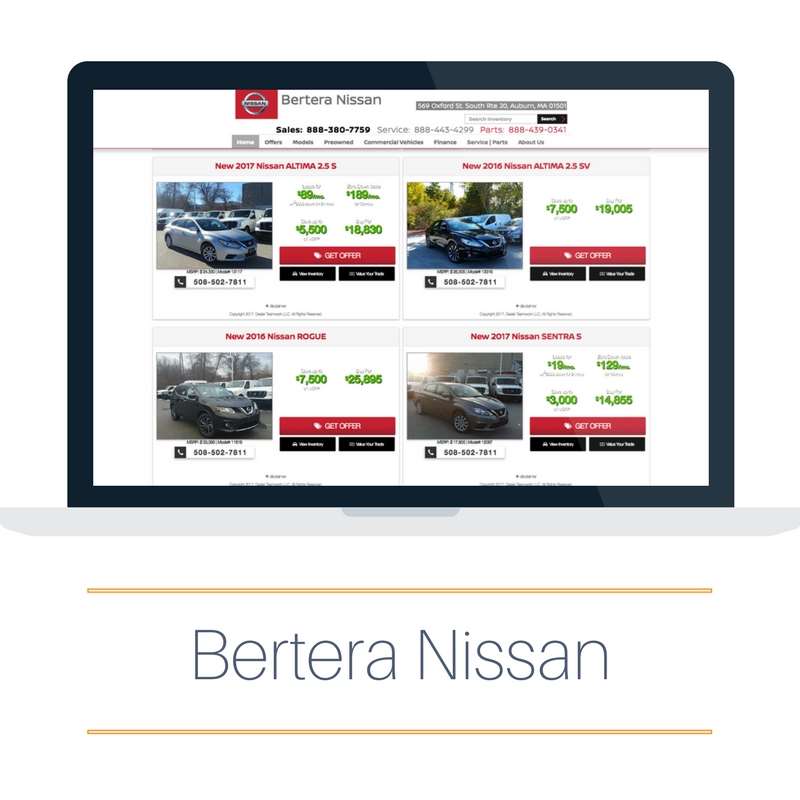 Have questions? Contact DealerTeamwork to request a demo.