We're making your digital marketing easier to understand and use. Here are some of the most common questions we hear.
Let us know if you have additional questions.
Q. Who is Dealer Teamwork?
A. Dealer Teamwork is made up of a unique group of successful automotive professionals who were fed up with seeing unproductive marketing solutions. An essential element of the experience is the Dealer Teamwork account management and support dealers receive. Our goal is to create the most valuable marketing resources available and change the way digital marketing is managed by car dealers.
Q. What is an MPOP™?
A. Dealer Teamwork created automotive's first Merchandising, Personalization, and Optimization Platform (MPOP™). This award-winning, patented solution helps dealers create, distribute and manage highly relevant marketing campaigns instantly.
The MPOP™ Dealer Teamwork's software solution, helps you manage your new car, used car and service offer marketing programs. Dealers add their new monthly offers to the dashboard and it updates their leaderboard page, model-specific smart landing pages, email campaigns and paid search campaigns in real-time. Nothing like this exists, in any market segment!
The campaigns are published to three primary marketing channels - Paid, Owned, and Earned - in real-time. A significant competitive advantage is created using the dealer's transactional data (leases, payments, prices, APRs, etc.) to provide the best results for in-market buyers.
Q. What is a leaderboard page?
A. The leaderboard page is what we call the primary specials page. This page is where your individual vehicle and service offers appear upon being entered into the admin tool.
Q. What is a Smart Landing Page?
A. A Smart Landing Page, or model-specific landing page, is a page we create for your website. Our team builds one landing page for each model you sell. Your offers are published to these pages, and your pay-per-click campaign traffic is sent to these pages. (If we're managing your AdWords campaigns.)
These pages are designed to be highly relevant to your improve search engine rankings. We're continuously improving the SEO quality and conversion optimization of these pages to make them as efficient as possible for you.
Q. What is the Specials Quality Score?
A. Great question! The Specials Quality Score is an important part of our patented platform. This visual guide shows you how to create the most effective offers possible. When a new special is listed, the Quality Score is shown as red.
As more items are added to your vehicles, such as the APR, lease payments and finance payments, your score increases and the progress bar turns yellow, then green (A). We even provide you a list of the items needed to improve your quality score (B). This eliminates any questions you may have about creating effective marketing campaigns.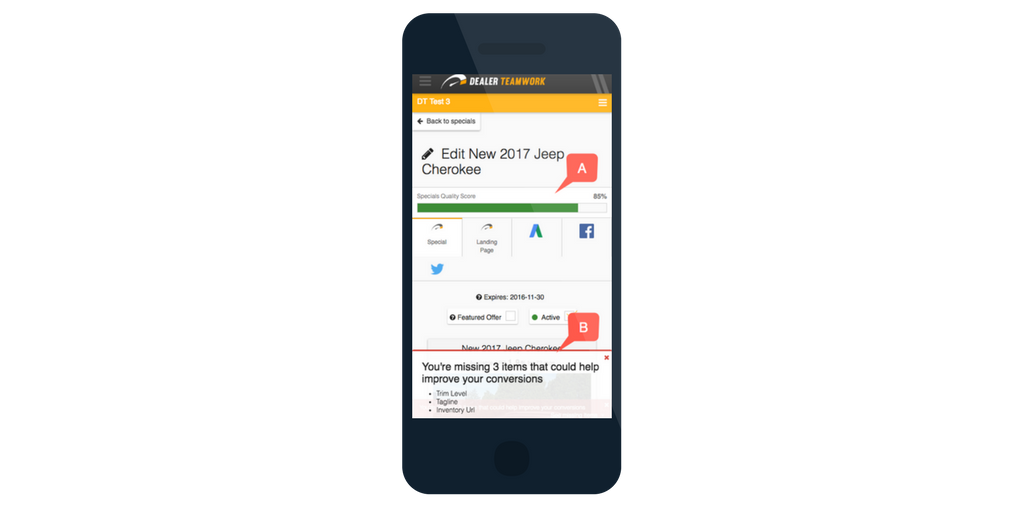 Q. How long does it take to update my specials?
A. It takes only a few minutes to add a new car special, edit it and make it live on your site. Over time you may even notice your time decreasing. Plus, we're always working hard to improve the usability and make it more efficient for you. It takes even less time to build a used car special!
Once your inventory feed is connected, simply select a vehicle and make it live. The MPOP™ does the rest for you by preparing it for an email campaign and by automatically updating your paid search campaigns. (If we're managing your paid search.)
Q. Can Dealer Teamwork update the specials for me?
A. Unfortunately no, because of the liability it places upon us. The great part about the MPOP™ is its ability to speed up your marketing. It is that simple to use. Your team will be able to update and manage your inventory marketing process in just minutes per vehicle each month. Stay tuned, a managed solution is in the works!
Q. We always just advertise a few specials every month. How many specials should I create for my dealership?
A. Smart question! We recommend adding at least one special for every model your brand sells. Once you have these added, you should also consider adding a special for each trim level as well. This creates more content for your pages while giving the buyer more choices to help make a decision. You also have the ability to create unlimited used car specials, just depends on what you have available. And, you can also create up to 48 service specials.
Q. Can I add real photos to my vehicle specials?
A. Yes, you sure can! We recommend it too. We'll request a feed from your inventory provider during the account set-up process to show your real photos on the specials pages. Customers love real photos!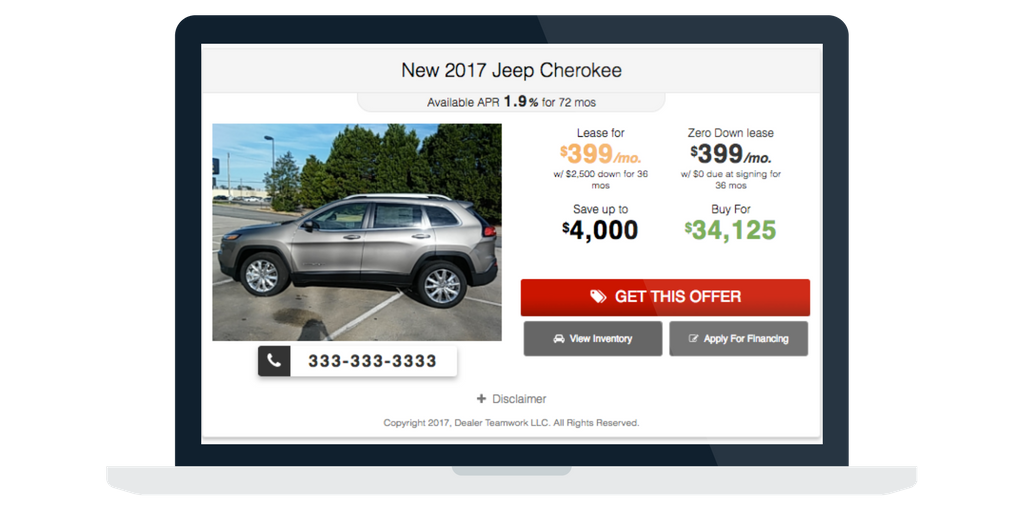 Q. Can I add videos to my vehicle specials?
A. Definitely! You can add a YouTube link to either an OEM video or your dealership's video in the vehicle tab of the dashboard. Just copy everything after the "/" in the sharing URL of your video (IE: https://youtu.be/g5mLLbw8rwY)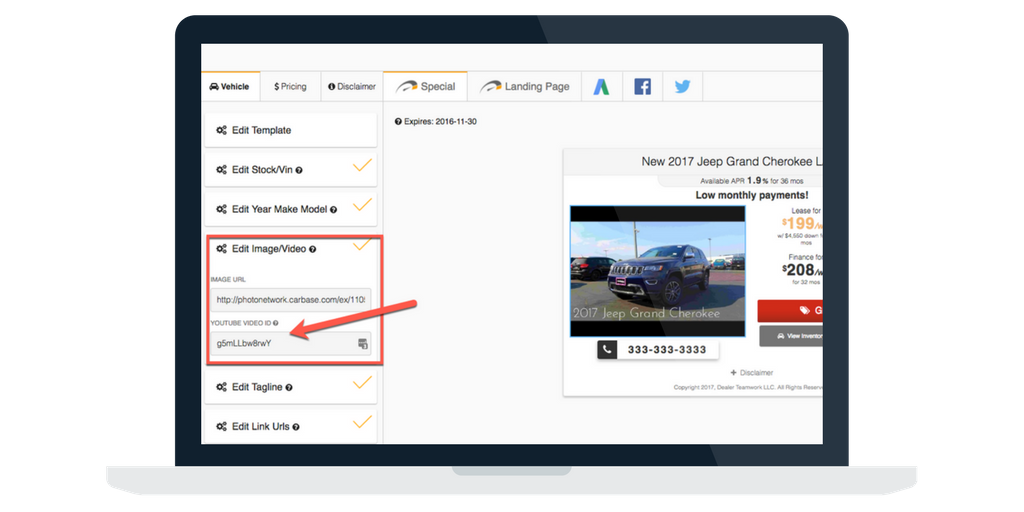 Q. Can I edit the text in my paid search ads from the dashboard?
A. When you edit your specials, your transactional offers and pricing publish to your campaigns in real-time. You're in 100% control of your campaigns when you add your data. Your APRs, discounts, lease payments and prices update your ads to provide the most accurate, relevant and specific information for car buyers. (This will only happen if Dealer Teamwork is managing your paid search campaigns.)
Q. How many ads are in my Google AdWords campaign?
A. Your new model-specific campaigns can have up to 153 individual ads for each vehicle. Your used vehicle campaigns can have up to 40 individual ads for each vehicle. This gives Google more choices to match a shoppers search query, and their intent, with the most relevant ads possible. This is also why it's so important you include as many elements as possible in your offer. The MPOP™ can help build you more ads when your Specials Quality Score is 90% or higher.
Q. I already have an AdWords company, why do I need you to manage my campaigns?
A. You don't need an AdWords company anymore. Your edits in the MPOP™ power your AdWords campaigns. This is the information in-market car buyers look for when they're ready to buy. Our patented software updates your campaigns dynamically.
Plus, your AdWords campaigns drive buyers to your model-specific landing pages. This helps improve your quality score, your campaign performance and the shopper's online experiences.
Q. Can I add my specials to my dealership's group site as well?
A. Absolutely! We can help you add your specials to your group site. There is a one-time set-up fee for this. Contact us for more details about how to integrate your offers into your group site.
Q. What happens when my specials expire, or the vehicle sells?
A. You'll get an email notification when your specials expire. The vehicle is removed automatically when it is sold. You can also have a sold vehicle replaced with another offer.
Q. Can I edit the design of my pages?
A. Yes! You have the ability to customize the special's page theme in your dashboard settings. You can also edit the content in the Pages Tool. This lets you edit the text, images, video and the order of your content sections.
Q. What if I have a feature request or a bug fix? Can you help me?
A. Absolutely! Many of our best features have come from awesome dealers like yourself. Shoot us a detailed email with the request you'd like to see, and we'll evaluate it and determine the best way to incorporate it into the platform. If you have a bug fix request, please email us at support@dealerteamwork.com or call us directly at 855.797.9770.
Q. How do I change the order of my specials? (Moving a special to the top, or bottom of the page?)
A. Changing the order of your specials is easy. In the editor, select a vehicle, drag the special by clicking the black arrow in the top right corner of the special's box and drop it in a new spot. (See image below)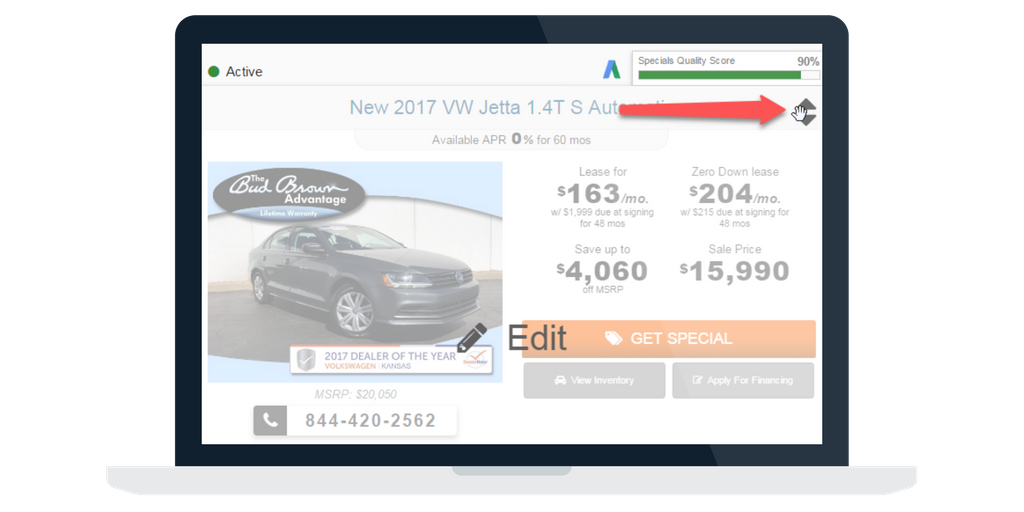 Q. Do I have to sign a lengthy contract with Dealer Teamwork?
A. NO! We never require our clients to sign a long-term contract. We have a month-to-month agreement. Although, once you see the performance of the MPOP™, you won't want to stop using it!
Still have questions? Contact Us