
It's Time For Change
Join Dealer Teamwork before Digital Dealer 25 to gain key insights from top, Google automotive executives on the latest and greatest in automotive digital marketing.
This exclusive event will feature speakers from Google and a dealer panel from top industry professionals.
Throughout you will gain insights, straight from the source, on how to reach in-market shoppers in the moments that matter. It's time to get smarter with your digital marketing strategy, so let Dealer Teamwork be your guide to mastering search in 2018.
VIP Admission | Space is Limited
Spots are filling up fast so register early!
October 16, 2018 | Time TBA
Venue TBA
Las Vegas, NV 89158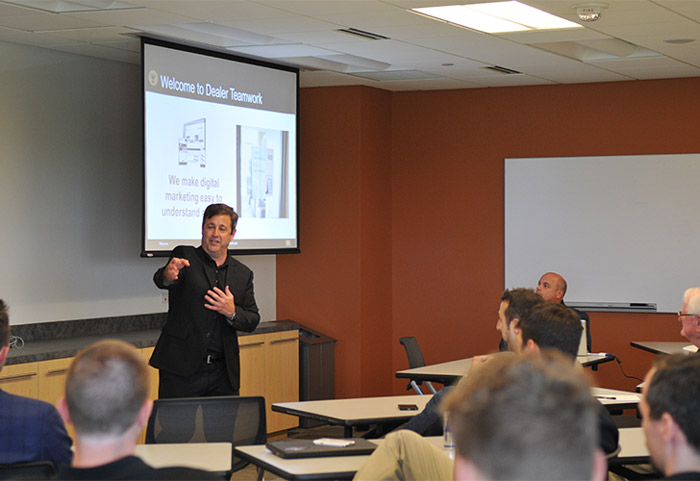 Event FaQs
Q: What is the cost to attend the Dealer Teamwork Digital Innovators Summit?
A: It's FREE to attend. Costs for your hotel and travel to Las Vegas, NV are not included.
Q: What is the best way to get to and from this event?
A: Dealer Teamwork will provide complimentary transportation for registered attendees both to and from the event through Uber. Attendees will receive a promo code and instructions via email before the event, enter this code when you order an Uber to the event to receive a free ride there and back from anywhere near the Las Vegas strip. More details coming soon!
Q: Why should I attend this event?
A: This is a unique opportunity to have personalized training straight from Google representatives, with opportunity to ask the experts questions in person. You will leave this event with a better understanding and actionable insights on the latest in automotive digital marketing. Also, it's going to be really fun! You will have a chance to win awesome prizes, and you'll get complimentary Dealer Teamwork and Google swag.
Thank you in Advance!
Thank you in advance for considering attending the Dealer Teamwork Digital Innovators Summit. One of the pillars of our rapid success and growth as a company has been education. As a Google Premier Partner, we are thrilled to have this opportunity to share knowledge with the automotive community. We look forward to seeing you there!