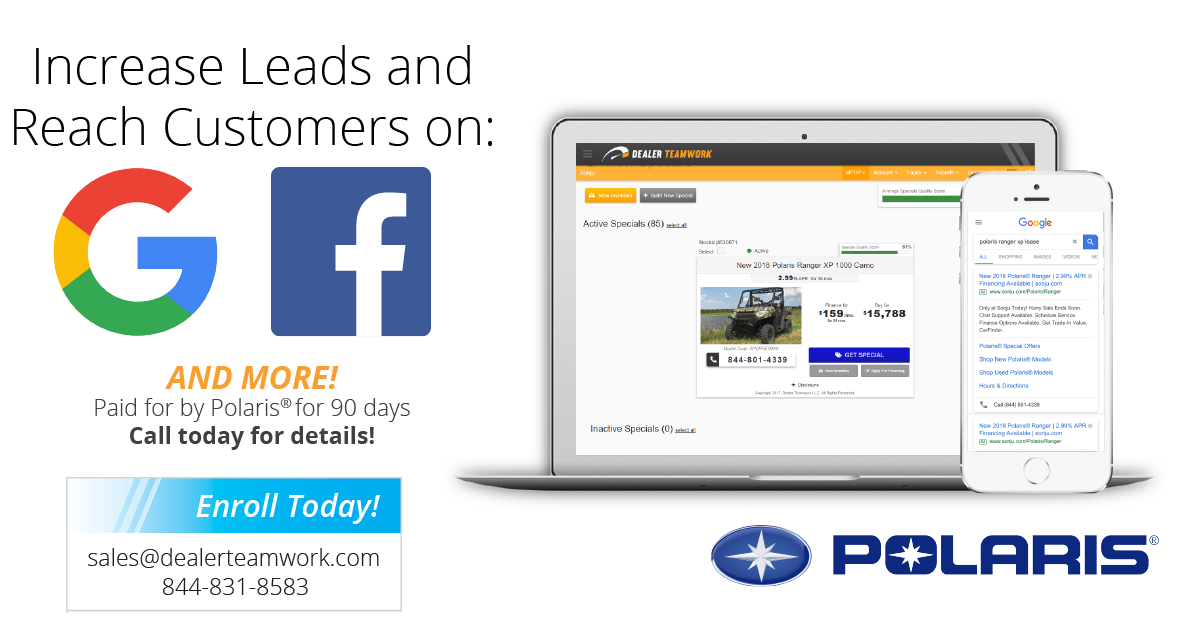 Polaris is covering the cost of 90 days on the MPOP™ for certified Polaris Dealers! Enroll today to increase leads and reach customers on search engines and social media, paid for entirely by Polaris!
---


Click Here

to enroll
---
Pilot Features Include:
Compatible with your current website provider
Active offers built by Polaris
$500/month Paid Search Budget, paid for by Polaris
Call tracking from the dealer's site
Accurate reporting via Google Analytics
Google-certified support team with weekly follow-up reports
About Dealer Teamwork
Dealer Teamwork's mission is to make digital marketing easy to understand and use. With the patented MPOP™, dealers have seen increased mobile and desktop traffic, higher quality leads and more sales at their stores! Take advantage of this exciting offer, paid for entirely by Polaris!
---
See what our clients have to say about us:
"Dealer Teamwork has solved the number one problem in automotive digital marketing - coordinating offers across marketing channels in real-time. There is no comparison - the MPOP™ is a game changer."

Tom Moore - Senior Vice President, Morgan Automotive Group
"Dealer Teamwork and the MPOP

™ allow me to be more competitive and the speed-to-market is incredible. I am in control of my own success! No more waiting days or weeks for vendors to make changes to my advertising.

"

Raymond Carver - General Manager, Kocourek Ford Lincoln
Want more information? Check out our latest case study to see how dealers perform when switching to Dealer Teamwork.
---
Still have questions? No problem! Schedule a demo here or by using the demo request form on this page.