Apple Valley Ford used Dealer Teamwork's MPOP to overhaul their entire vehicle merchandising and optimization process. Their marketing team created a simple process that effectively communicates the current offers from the desk managers to the marketing team.
With the MPOP, current financing and lease offers are created on the first of the month, are shared with the marketing team, and are published instantly. Adding this data ensures the most accurate pricing and prevents any lost sales opportunities as every model and trim level is assigned an offer.
The process keeps the specials leaderboard page, model-specific landing pages, paid search campaigns, and email campaigns as accurate as possible.
The result: Higher quality traffic, improved organic rankings, more effective paid search campaigns, and a record year of performance. (July '16 vs. June '17)
---
Success Story
How the MPOP Improved Apple Valley Ford's Marketing Results


66% Increase
Organic Search Traffic to New Vehicle SRPs


53% Increase
Organic Search Traffic to Used Vehicle SRPs


32% Increase
Paid Search Traffic to New Vehicle SRPs


23% Increase
Paid Search Traffic to Used Vehicle SRPs
---
Their Story
The Evolution of Apple Valley Ford's Marketing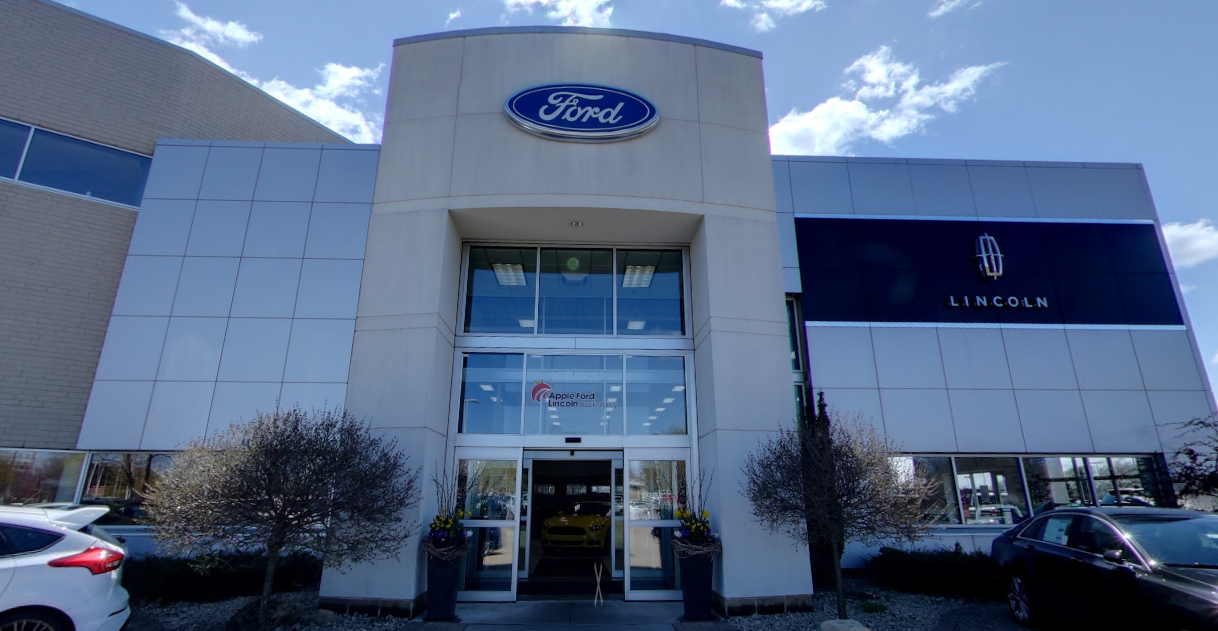 Apple Valley Ford needed a better method of creating and distributing their vehicle merchandising. Efficiency and productivity were also major concerns.
Their team was also concerned with the amount of money spent on various marketing activities. They couldn't justify the costs against the results.
Want to learn how Apple Valley Ford and Dealer Teamwork resolved these issues with our patented MPOP?
---
Their Goals
Increase Productivity. Reduce Costs. Improve Website Traffic.
Apple Valley Ford wanted to showcase more offers on every Ford model available. They needed an efficient method of creating and updating model-specific, mobile-friendly landing pages. The dealership also wanted to improve their paid search campaign performance and integrate it effortlessly with their vehicle offers.
They needed a complete overhaul of their sales culture and marketing processes. To do so, they needed to leverage their earned, owned, and paid marketing channels.
---
Their Solution
MPOP New Vehicle Marketing
The Apple Valley Ford marketing team enhanced an essential activity already happening in their stores. Every month, desk managers would create new lease and finance offers. Unfortunately, those offers weren't effectively communicated to the marketing team. They wanted to create an omni-channel approach to sharing their current offers consistently throughout all of their marketing channels.
The MPOP for new vehicles empowered them to do what they wanted - instantly publish multiple lease offers, MSRP savings, and APRs for each model and trim level.
Managing the offers happens in a few clicks per vehicle, from any device. Lease offers for a Ford Escape are changed two or three times each month while the Ford F150 Savings and APRs can be changed multiple times per week based on current demand or competitive activity.
Offers are always current and provide the best online shopping experience because of the of choices provided for each vehicle.
Dealer Teamwork products used:
---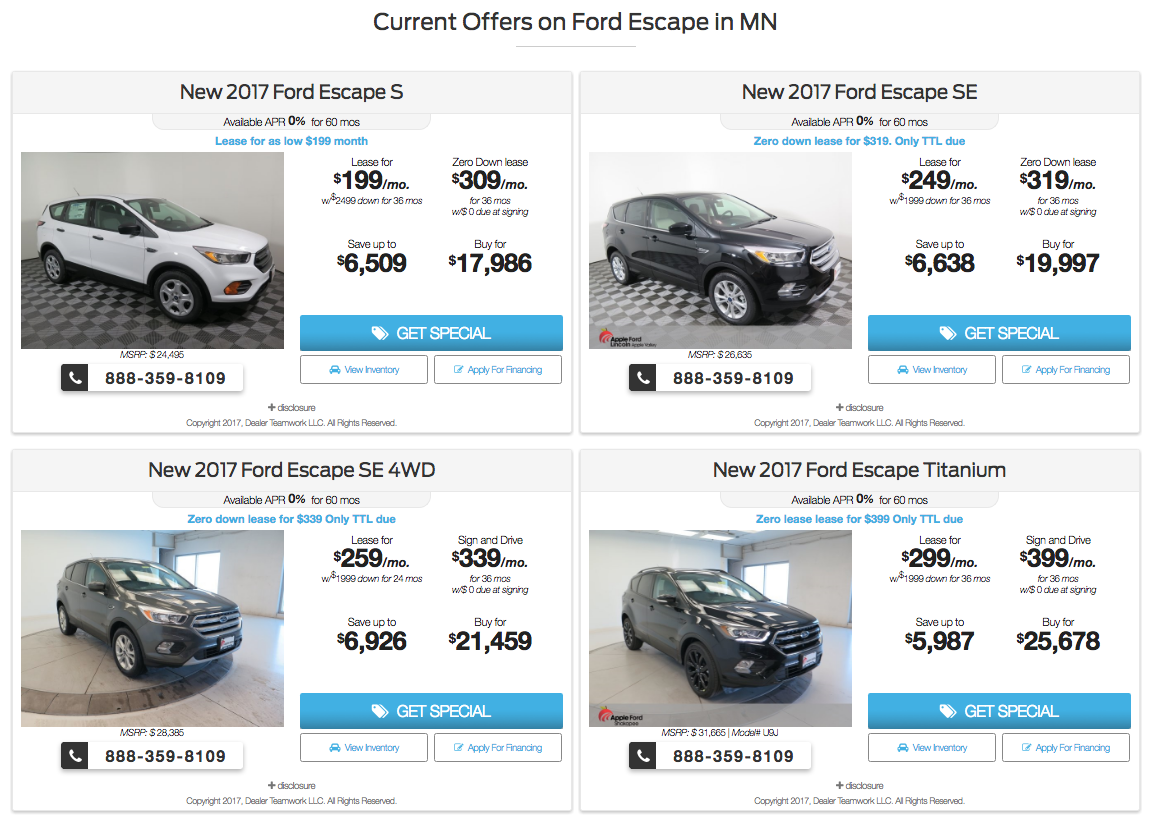 Apple Valley Ford creates multiple offers for each model they sell, including trim levels, to provide buyers more choices and improve conversion opportunities.
---

Model-specific landing pages are optimized to improve search engine performance, create more engagement and increase conversions via phone calls and form submissions.
---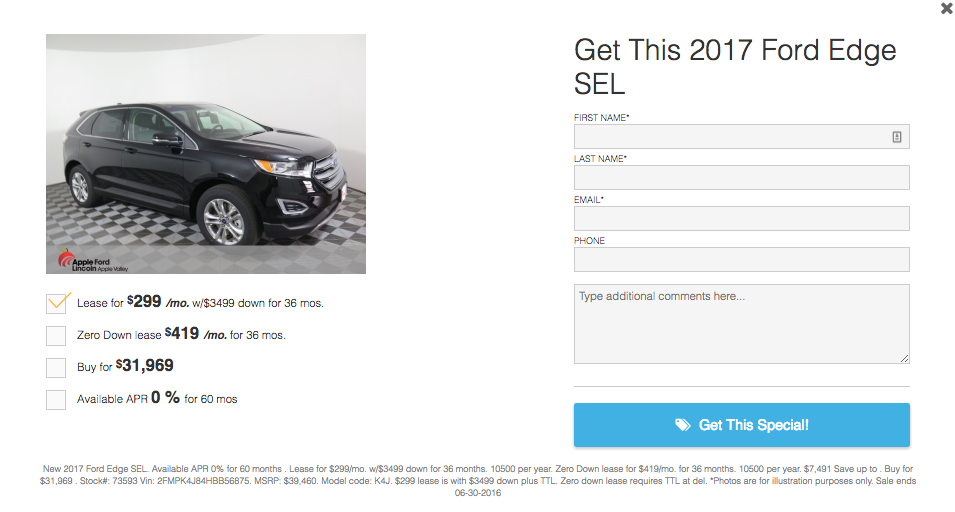 Lead submission forms feature the vehicle, reinforce the offers, and are identified by vehicle in your CRM for easier tracking.
---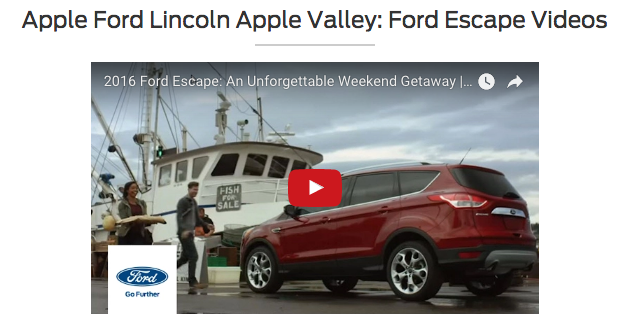 Videos on a landing page can help increase conversions by 80% or more!
---
"The Dealer Teamwork MPOP has improved our entire marketing process. Our desk managers are tasked with creating new vehicle offers and specials. This is their first priority as all other marketing efforts center around having these specials. Creating the specials is very intuitive and useful. We have managers with little computer experience successfully loading specials into the platform."
- John Yoder, Apple Valley Ford, eCommerce Manager
Show me how the MPOP can help!
---
Their Success
Marketing Takes a New Form
The Dealer Teamwork MPOP is now the most utilized marketing resource for Apple Valley Ford. Their marketing efforts for the store revolve around the offers created in the platform.
Current offers are published to a conversion optimized leaderboard page, responsive model-specific landing pages, paid search campaigns, and mobile-friendly email campaigns.
Landing pages with rich content, including video, also serve as the destination for other online marketing efforts including display marketing, retargeting banners, and social media marketing. Each page is carefully optimized with the proper elements to ensure it is indexed properly and ranks well in the search engines.
These pages consistently provide higher engagement and drive high-quality leads from in-market car shoppers via the click-to-call numbers and the lead submission forms. The staff also experiences a higher frequency of showroom customers with the vehicle offers loaded on their smartphones as well.
Campaign results, year over year (July '16 vs. June '17):
Organic Search Traffic to New Vehicle SRPs:

Up 66%

Organic Traffic to Used Vehicle SRPs:

Up 53%

Paid Search Traffic to New Vehicle SRPs:

Up 32%

Paid search Traffic to Used Vehicle VDPs:

Up 23%

Paid Search Click Through Rate:

8% vs. Automotive Benchmark 2%

Specials Page Visits:

Up 502% (3089 vs. 18,591)

Time Spent on Specials Page:

Up 96% (2:11 vs 4:16)

Specials Page New Visits:

Up 559% (1390 vs. 9165)

Specials Page Bounce Rate: Down

96% (45% vs. 2%)
---
How They Did It
Ad Campaigns with Payments and Prices
Apple Valley Ford uses the MPOP to build ad campaigns instantly that attract higher quality traffic. Visitors are more engaged and convert into sales opportunities.

Current offers are instantly published to paid search campaigns and have resulted in a click through rate 400% higher than the Google Automotive Benchmark. (8% vs 2%) * WordStream Google PPC Benchmarks 2016


Total clicks improved as the cost-per-click significantly decreased.
The average ad position also improved as the cost-per-click significantly decreased.
---
Keys to Success
Build a customer-centric based process
87% of all vehicles in the US are either financed via loans or leases. Your shoppers are looking for relevant transactional data, and they expect to find it fast and easy.
Deliver your new vehicle offers with MSRPs, APRs, and multiple lease offers for every vehicle available. Additional offers on model trim levels give your shoppers even more buying options.
Automate outdated manual marketing efforts
The MPOP changes how marketing efforts are executed. Never miss sales opportunities due to OEM offers delivered after the first of the month. Eliminate delays caused by waiting on marketing assets to be completed and published to the website. You're in 100% control. Publish your offers instantly!
The Specials Quality Score prevents important items from being left out of your vehicle offers and service specials. An itemized list shows exactly what's missing and recommends items that will help improve your conversion opportunities.
Prepare your site for discovery and conversions
With 90% of all shoppers starting their vehicle research online, your website is the best cost-efficient opportunity to catch and keep car buyers.
Your website must have highly relevant, search-optimized landing pages that can be easily discovered and ranked in the search engines. Your paid search campaigns must direct shoppers to these pages to increase conversion opportunities.
Mobile-friendly pages with easy to access click-to-call numbers and lead forms that reinforce your offers help drive higher conversions.
The result: Improved shopping experiences, more efficient marketing efforts, and more effective showroom sales processes.
---