Half the battle of making sure your dealership's blog is correctly optimized for SEO is properly planning and organizing your article's content. Here are 5 effective tips to get you started:
Include 1 longtail keyword in your blog post's title
Run your title through a search engine results page (SERP) preview tool
Remember, Google typically displays between 50-60 characters for titles and no more than 160 characters for meta descriptions.
By keeping your title under 60 characters, you can expect 90% of your titles to display correctly. For this reason, we advise placing your blog title's longtail keyword near the beginning of the title to avoid the keyword being cut off.
Concerning meta descriptions, though they don't directly affect SEO, meta descriptions DO affect click through rate (CTR), which directly affects page ranking. If a reader can't read the full title or description, they may choose to click on another page's link. Don't let that happen!
Below is an example of the title exceeding its maximum character limit:

Notice how some of the text is cut off. Make sure you keep your title's character limit to 60, and meta description to 160 characters to prevent this from happening.
Conversely, here is an example of a good title and meta description. Both the title and meta description fit on the searcher's screen:

Match the search intent of the reader
In 2019, search engines like Google and Bing have become incredibly effective at answering questions and providing relevant content that searchers searched for. That's why it's so important to write content that matches a searcher's intent.
What does that mean for you? It means you'll have to know your audience and anticipate what they search for. Blog writing that best solves a searcher's task will rank better, longer. Keep that in mind when optimizing your blog post for SEO.
Optimize your header tags for featured snippets
Header tags are

usually the title of a post, or other emphasized text on a page

that add structure and context to an article. They act as a table of contents for the reader. Using this post as an example, the H1 tag (in HTML language) introduces the page's topic via the title. H2 tags cover the 5 main points of this article with the H3 tags consisting of bulleted sub points supporting the H2 points.

One way to optimize your header tags is by optimizing for voice search via a long-tail keyword. Remember, searchers typically ask questions when using voice search, so consider that when choosing a keyword. Once you have your keyword, answer its question or solve the keyword's problem in your blog's body paragraphs.
In the example below, Moz provided text directly below the keyword, "Title Tag", that answered the searchers question of how long a title should be:

Another optimization method involves using smaller headings to outline different list items within your blog post that answer the blog post title's question. Google uses these headers to create its own bulleted or numbered lists. Google then includes these in its featured snippet results. You can see an example of this below: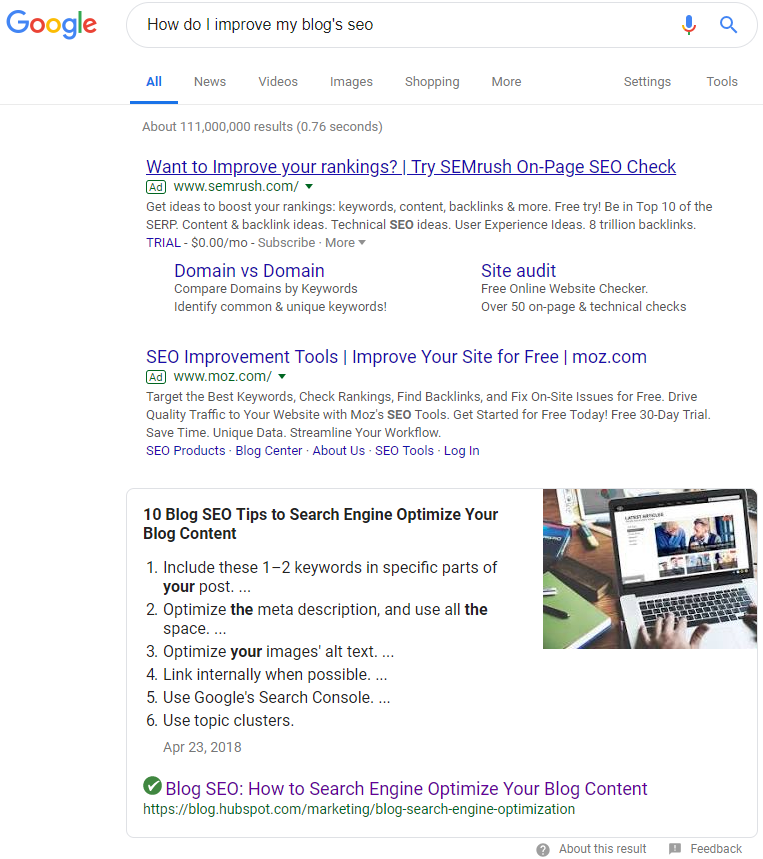 An additional way to boost the SEO of your blog posts is to search for the topic you plan to cover and incorporate the "People also ask" questions posed by Google as featured snippets into the title of your blog post. This is an easy way to ensure your content/keyword phrasing aligns with topics that people are interested in and searching for. This can also raise your page's search ranking on the search results page. Here's an example:

Write your blog post to maximize link-building & social sharing
Google often trusts websites that have other websites linking back to them. Though link-building is a slow process with less ranking clout than in the past, link-building is still an effective SEO optimization technique that Google considers in its page rankings.
To maximize the chance of a site linking back to your blog post, make sure your blog's title and article hook are catchy, with your blog's content being relevant. This will increase your chance of a site with authority using your blog post on their website, thus establishing an authoritative link, which will help your SEO efforts.
Social media sharing is growing increasingly important in 2019. Google uses social sharing as an important factor in its search rankings. Maximize your blog's social shares by writing high quality content that matches the searchers intent, questions and problems.
Become an SEO rockstar for your dealership
Be an SEO rockstar. Include these 5 tips in your dealership's blog posts and you'll be well on your way to effectively optimizing your blog for SEO. Happy writing!