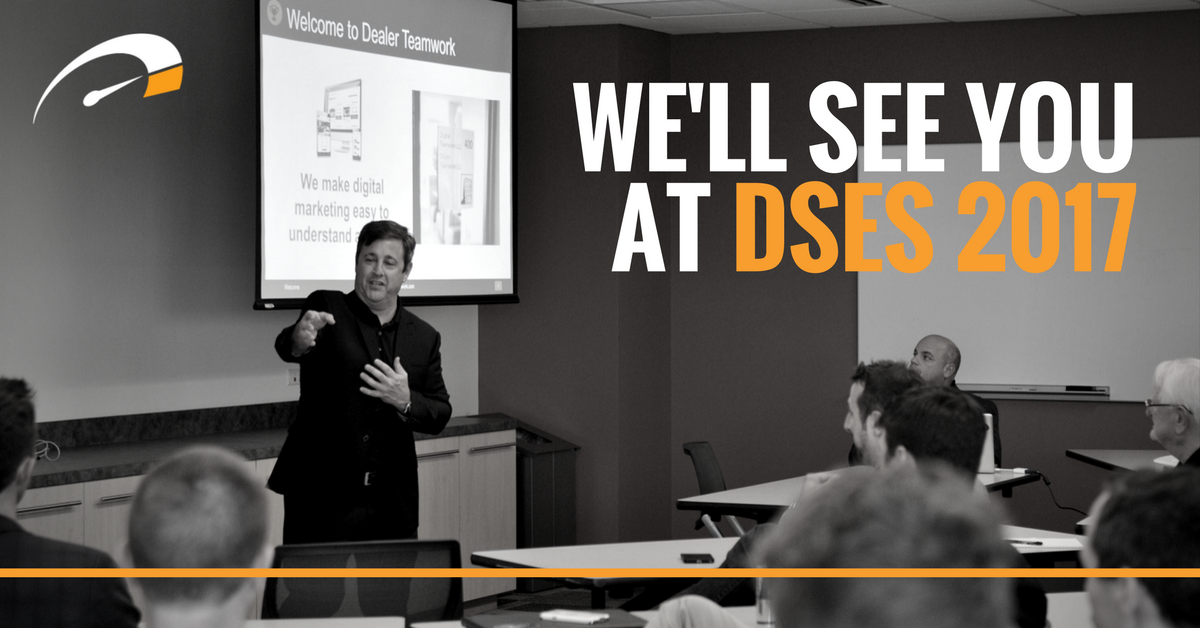 Dealer Teamwork is going to the 2017 DrivingSales Executive Summit in Las Vegas, and we'd love to you see you there! Our CEO & Co-Founder – Sean Stapleton, our VP of Sales – James Klaus and our Co-Founder & Dealer Advisor – Eric Miltsch will be in attendance and want to meet with you.
---


Schedule Your Meeting at DSES 2017 Here
---
Dealer Teamwork Breakout Sessions
Sean Stapleton and Keith McKinzie of Sonju Two Harbors will be presenting Why Relevancy & Optimization Are Crucial to Your SEM Strategy on Sunday, October 22, 2017 from 4:00 PM - 4:40 PM in the Breakout 1 Speakers slot. During this session you will learn:
What it means to be relevant with SEM
How optimization improves SEM relevance
Dealer Implementation of these tactics and the amazing results that were achieved
Learn more about this session by watching the video below.
Eric Miltsch – Co-Founder of Dealer Teamwork and Senior Partner of the dealership, Auto Outlets USA, is also a breakout speaker. He will be presenting How a New Dealership Overcame Tragedy to Rebuild Bigger & Stronger in Two Years in the Breakout 3 Speakers slot on Monday, October 23 from 11:15 AM - 12:00 PM. Be sure to catch his session as well to learn how to improve sales experiences and marketing performance with proven strategies!
---
Why meet with Dealer Teamwork at DSES?
See why your paid search campaigns are ineffective and costing you money
Discover how your campaigns can include transactional data to drive more phone calls and leads
Identify the gaps in your on-page optimization that prevent higher organic rankings
Learn how to build relevant campaigns faster
Reduce your marketing costs by up to 70% when compared to third-party solutions
---
Don't just take our word for it, see what real clients have to say about us:
"Dealer Teamwork has solved the number one problem in automotive digital marketing - coordinating offers across marketing channels in real-time. There is no comparison - the MPOP™ is a game changer."

Tom Moore - Senior Vice President, Morgan Automotive Group
"Dealer Teamwork and the MPOP

™ allow me to be more competitive and the speed-to-market is incredible. I am in control of my own success! No more waiting days or weeks for vendors to make changes to my advertising.

"

Raymond Carver - General Manager, Kocourek Ford Lincoln
Want more information? Check out our latest case study to see how dealers perform when switching to Dealer Teamwork.
---
Not going to DSES? No problem! Schedule your virtual demo here or by using the demo request form on this page.