A
M

erchandising,

P

ersonalization and

O

ptimization

P

latform
First, hook your digital marketing channels and inventory feeds up to the MPOP™. Second, merchandise your vehicles and services in the MPOP™. Then, the MPOP™ does the rest by pushing that merchandising out to all your linked marketing channels in real-time.


100% control of your digital marketing
THE POWER OF CENTRALIZED CONTENT DISTRIBUTION
If you find yourself asking, "What's an MPOP™?" keep reading! The MPOP™ is Dealer Teamwork's patented content creation and distribution platform. It's all in the name – a Merchandising, Personalization and Optimization Platform.
There's NO LONG-TERM CONTRACT. How you sign up for the MPOP™ is up to you, choose between the following packages:
New Vehicle Marketing

– merchandising tool, leader board page, model-specific landing pages

Used Vehicle Marketing

– merchandising tool, leader board page

Service Marketing

– merchandising tool, leader board page
Or

bundle the full MPOP™ suite

to maximize your investment!
All MPOP™ users also have access to the email tool, body style landing pages and Cruise Control automated offers generator. Plus, you can add on dynamic paid search and Facebook Share to round out your plan.


Real-time, cross-channel updates
WORK SMARTER, NOT HARDER
The MPOP™ eliminates the need for multiple third-party vendors. You can also save hours, days and even weeks of time by introducing this platform, because any updates you make in the MPOP™ are pushed to all of your linked marketing channels.
Let's say you merchandise a new Ford F-150 from your inventory with a $299 per month lease offer using the MPOP™. As soon as you save that offer, the following channels are updated in real-time…
Website

– your new vehicle leader board page, Ford F-150 landing page, body style page

Paid Search

– your offer is pushed to your Ford F-150 paid search ads

Social Media

– your offer is available to instantly push to your Facebook page

Email Campaigns

– your offer is available to build into a mobile-friendly email template
Now, when a shopper clicks your ad, social post or email content with that $299 lease offer, they automatically land on a relevant, model-specific landing page with that same $299 lease offer. Full transparency and consistency!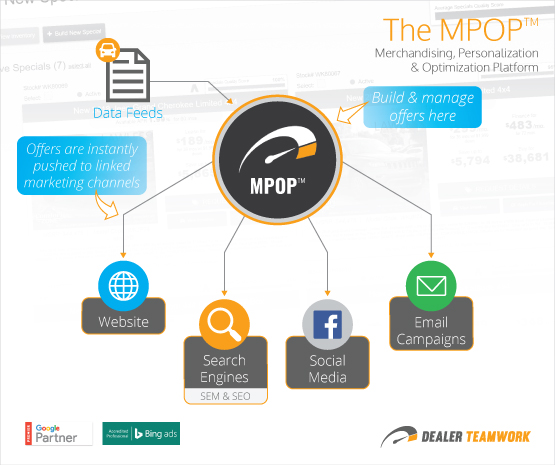 Proven. Revolutionary. Trusted.
See why dealers trust the MPOP™ to find new customers on social media.
"Nothing compares to the MPOP™! I like how simple it is to fill in the offer information in a professional and attractive manner. It looks like I spent hours on something that took minutes. I also like that I can see Dealer Teamwork expanding and progressing every day. I know that if I ever ran into an issue, someone would be answering my call to fix it."
Thomas Eggers
Internet Director
Nyle Maxwell Supercenter
"Dealer Teamwork has solved the number one problem in automotive digital marketing - coordinating offers across marketing channels in real-time. There is no comparison - the MPOP™ is a game changer."
Tom Moore
Senior Vice President
Morgan Automotive Group
"Dealer Teamwork and the MPOP™ allow me to be more competitive and the speed-to-market is incredible. I am in control of my own success! No more waiting days or weeks for vendors to make changes to my advertising."
Raymond Carver
General Manager
Kocourek Ford Lincoln